Fish of San Franscisco Bay Area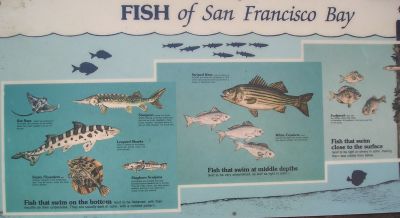 American Shad - Alosa sapidissima
Photo credit - Rene Reyes, Bureau of Reclamation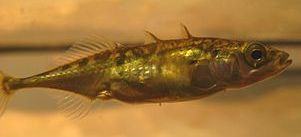 Three-spined Stickleback - Gasterosteus aculeatus
Photo credit:
JaySo83, Wikimedia Commons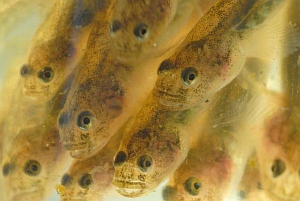 Tidewater Goby - Eucyclogobius newberryi
Photo Credit: Jessica Weinberg, NPS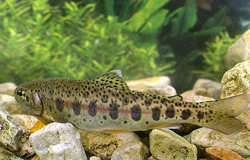 Steelhead Trout - Oncorhynchus mykiss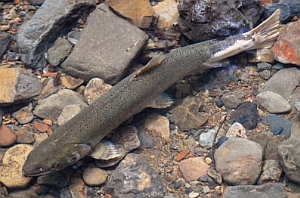 Coho Salmon - Oncorhynchus kisutch
Photo Credit: Jessica Weinberg, NPS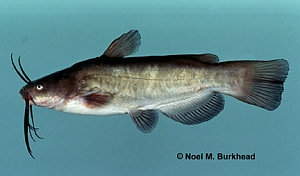 Brown Bullhead - Ictalurus nebulosus
Photo credit - Noel M. Burkhead - U.S. Geological Survey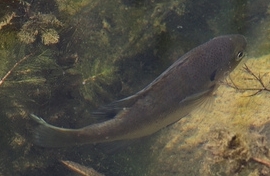 Bluegill - Lepomis macrochirus (Shadow Cliffs)
You are usually close to water anywhere in the San Francisco Bay Area. The bay itself and the ocean waters are home to a variety of fish, including different types of sharks, and rays. Shiner Surfperch are probably the most abundant fish around piers and pilings. Some common fish species of the South Bay include Bay Pipefish, Three-spined Stickleback, Northern Anchovy, Topsmelt Silverside, Pacific Staghorn Sculpin, Starry Flounder, Yellowfin Goby.
And the rivers and streams are host to many kinds of freshwater fishes.
Fish Found in Both Fresh and Saltwater
Some Saltwater/Tidal Fish
Ocean Sunfish - Mola mola
Pacific Bluefin Tuna - Thunnus orientalis
American Shad - Alosa sapidissima (Non-native)
Pacific Herring - Clupea pallasii
Threadfin Shad - Dorosoma petenense (Non-native)
South American Pilchard (Pacific Sardine) - Sardinops sagax
Californian (Northern) Anchovy - Engraulis mordax
Delta Smelt - Hypomesus transpacificus
Surf Smelt - Hypomesus pretiosus
Longfin Smelt - Spirinchus thaleichthys (Threatened)
North Pacific Hake (Whiting) - Merluccius productus
Plainfin Midshipman - Porichthys notatus
Rainwater Killifish - Lucania parva (Non-native)
Topsmelt Silverside - Atherinops affinis
Jack Silverside (Jacksmelt) - Atherinopsis californiensis
Bay Pipefish - Syngnathus leptorhynchus
Brown Rockfish - Sebastes auriculatus
Kelp Greenling - Hexagrammos decagrammus
Lingcod - Ophiodon elongatus
Tidepool Sculpin - Oligocottus maculosus
Cabezon - Scorpaenichthys marmoratus
Opaleye - Girella nigricans
Striped Bass - Morone saxatilis (Non-native)
Pacific Jack Mackerel - Trachurus symmetricus
White Croaker - Genyonemus lineatus
Shiner Perch - Cymatogaster aggregata
Barred Surfperch - Amphistichus argenteus
Black Surfperch - Embiotoca jacksoni
Dwarf Surfperch - Micrometrus minimus
White Surfperch - Phanerodon furcatus
Walleye Surfperch - Hyperprosopon argenteum
Pile Perch - Rhacochilus vacca
Shimofuri Goby - Tridentiger bifasciatus (Non-native)
Pacific Halibut - Hippoglossus stenolepis
Cheekspot Goby - Ilypnus gilberti
Saddleback Gunnel - Pholis ornata
Bay Goby - Lepidogobius lepidus
Pacific Sanddab - Citharichthys sordidus
Speckled Sanddab - Citharichthys stigmaeus
California Halibut - Paralichthys californicus
Diamond Turbot - Hypsopsetta guttulata
English Sole - Parophrys vetulus
Curlfin Sole - Pleuronichthys decurrens
Pacific Sand Sole - Psettichthys melanostictus
California Tonguefish - Symphurus atricaudus
Pacific Tomcod - Microgadus proximus
California Lizardfish - Synodus lucioceps
Some Anadromous Fish
Anadromous fish are born in freshwater, migrate out to the ocean and reach maturity, then return to fresh water as adults to spawn.
Some Freshwater Fish
Organizations
Resources
Fish Survey 1992-1998 of Bay Area Stream Fishes, Robert A. Leidy. A very comprehensive report showing species collected by stream and collection station. ...link
Search for Native Fish species by location - county and watershed, California Fish Website by University of California. ...link
Fishbase is a comprehensive database of all species of fish. ...link
Video
| | |
| --- | --- |
| Coho Salmon and Steelhead Trout in National Park land in Marin County. | Underwater view of fish around a "Christmas tree reef" in Lake Del Valle. |
Fish Articles and Links
Salmon