Great White Shark - Carcharodon carcharias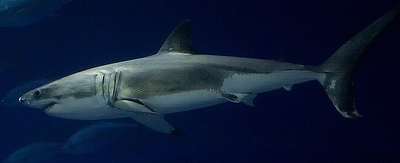 Great White Shark - Carcharodon carcharias
At Monterey Aquarium, by
Tom Clifton
via Flickr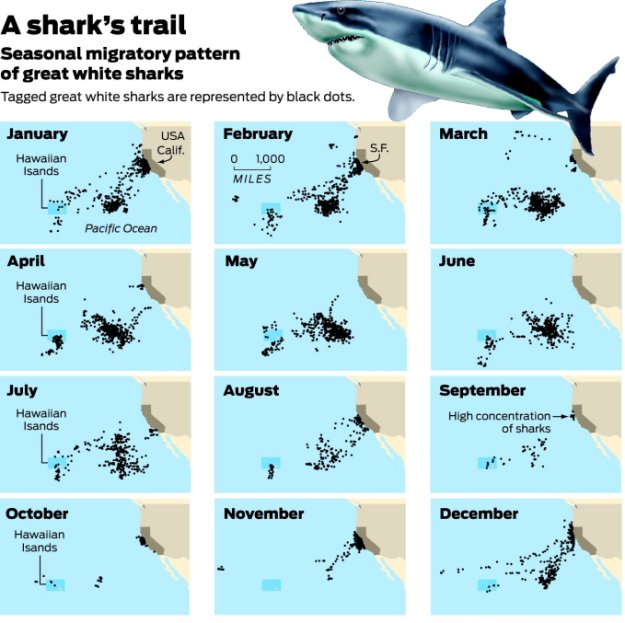 Great White Shark distribution
Overview
It is the largest predatory fish, growing to over 6 meters in length and over 2,200 kilograms in weight. The underside is white but the rest of the body is gray, ranging from dark to light gray. They are found in all cold temperate and tropical waters, between latitudes 60N and 60S. Its conservation status is classified as "Vulnerable" in the IUCN Red List.
The Bay Area has the dubious distinction of being close to the "Red Triangle" - which stretches from Bodega Bay to the Farallones to Monterey Bay. This area has recorded over half of the shark attacks on humans in California - not all of them are fatal. Most attacks have occurred between July and November. Seals and Sea Lions are the primary prey for adult sharks. Humans get attacked by mistake.
Scientists have been studying Great White Sharks around the Farallon Islands and Ano Nuevo State Park.
For more information about other local sharks see the Sharks page.
Shark Watching
Sighting a Great White Shark is mostly going to be a matter of being in the right place at the right time. There is slim chance you may glimpse a shark fin near the tip of Ano Nuevo island. You can improve your chances by going on a whale-watching trip to the Farallon Islands at the "right" time of year - July through November. The sharks come here to prey on Elephant Seals.
For the really dedicated shark-watcher who is willing to spend some serious money there are shark viewing trips organized by Incredible Adventures out of San Francisco. They take you to the Farallon Islands and arrange for diving in a cage (no diving experience required) once sharks are sighted. There is even a half-price option for people who want to just watch from the boat. Check out their web page.
Articles/Links about Great White Sharks
Video