Birds of San Franscisco Bay Area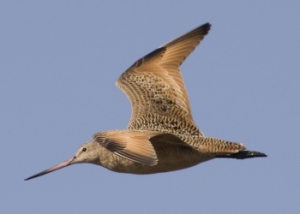 Marbled Godwit - Limosa fedoa (Elkhorn Slough)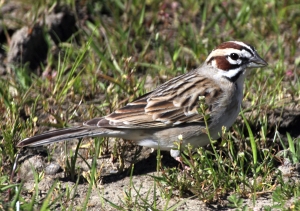 Lark Sparrow - Chondestes grammacus (Diablo Foothills)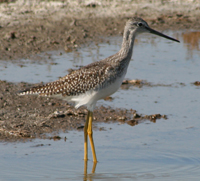 Greater Yellowlegs - Tringa melanoleuca (Alviso)
The San Francisco Bay Area is home to a wide variety of habitats, which in turn leads to a wide variety of bird species. Home to some of the most active bird-watching in America, the San Francisco Bay Area offers many opportunities to view avian wildlife.
Birding by Regional areas or County
Spreadsheet with lists for all California counties by John Sterling ...link
A very comprehensive guide to birdwatching spots in Sonoma County by Colin Talcroft. ...link
SonomaBirding.com - a good resource for activities in Sonoma County. There is map of birding hotspots in the area. ...link
Birding in the North Bay - guide to birding locations in Sonoma County by Madrone Audubon Society. ...link
Checklists for Napa and Solano County by Napa-Solano Audubon Society ...napa and ...solano
Birding Contra Costa County - a detailed guide by Steve Glover of Mount Diablo Audubon Society. ...link
2012 Year List for Alameda County by Bob Lewis, annotated with frequency status ...link
Directions to birding destinations in the East Bay by Bob Lewis ...link
Santa Clara County Bird Checklist - A comprehensive listing of the birds of Santa Clara County compiled by Bill Bousman and published by the Santa Clara Valley Audubon Society. ...link
Easy Birding Maps is a great resource by Gordon Barrett. He has created Google maps with details about many of the prime birding locations in the South Bay. ...link
Guide to Birding in Santa Cruz County - by the Santa Cruz Bird Club ...link
San Mateo County resources published by the Sequoia Audubon Society.
Online Birding Guide with maps, place descriptions and detailed directions for sighting birds - excellent resource. ...link
San Mateo County Bird Checklist - in PDF format ...link
San Francisco Bay and San Pablo Bay National Wildlife Refuges Checklist. This includes 281 species that are found in San Francisco Bay and Delta, and their bordering wetlands. ...link
Resources
Optics
Good binoculars are essential for birdwatching. As you get further into birding, a spotting scope may be a worthwhile investment.
Articles/Links about Birds and Birding in the Bay Area