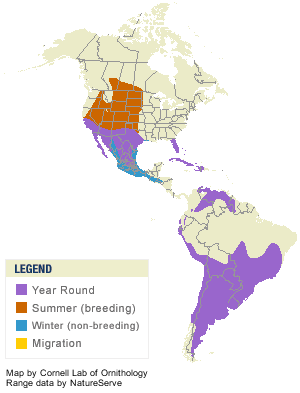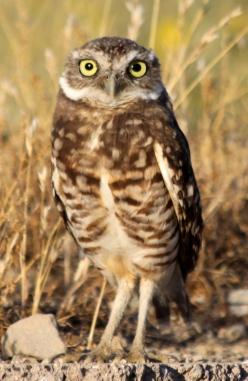 Burrowing Owl photos on this page are courtesy of Scott Artis.
Burrowing Owl - Athene cunicularia
Overview
Burrowing owls in California primarily rely upon burrows dug by California Ground Squirrels for nesting sites. For owls they are unusual in being diurnal. They can be seen standing around near their burrow, often perched on something at a slight elevation. The Bay Area is historically one of four primary Burrowing Owl nesting areas in California.
They are listed as a species of "Special Concern" in California. The state population declined 60% from the 1980's to the early 90's, and continues to decline at roughly 8% per year. The population in the Bay Area has been falling in response to loss of habitat.
The famous owls at Mission College, Santa Clara have been reduced from 60 to one pair! The Santa Clara Valley 2006 Burrowing Owl census revealed that local owls are now almost completely restricted to bayside parks, airports, and the edges of golf courses. 2009 data showed less than 40 nesting pairs in Santa Clara valley. Mountain View Shoreline Park and the San Jose Airport host stable populations of the owls because they have managers who maintain the short grass habitat they require. The other bayside parks and airports have fewer or no owls even though the species historically lived at these sites. (Santa Clara Valley information from SCVAS website).
Where to View
Eastern Alameda and Contra Costa counties.
Shoreline Park at Mountain View
North San Jose, San Josť-Santa Clara Regional Wastewater Facility
Prewett Family Park in Antioch
Cesar Chavez Park, Berkeley, Martin Luther King Regional Shoreline, Oakland - in winter.
Articles and Links
Local
General
Video
Reversing the Trend video from Santa Clara Valley Audubon