Las Trampas Regional Wilderness
Fast Facts
Location: San Ramon
Habitat: Chaparral, grassland, oak trees
Key Species: Puma, Western Skink, California Newt

Escape from the business of the city and enjoy the peaceful trails of Las Trampas Regional Wilderness, while soaking in beautiful nature and all kinds of wildlife. Las Trampas is a large area of 5,342 acres - you'll really feel like you're far away from the streets!
There are trails along Bollinger Creek that are very good for spotting wildlife. In winter, afer the rains, you have a good chance of seeing California Newts.
There are stories of people spotting what appears to be big, black cats, whether they're panthers, jaguars, leopards, or something else. Sightings are rare but there have been a number of witnesses who share similar stories. Read about the "legendary" black cat here.
Wildlife
Some species found here include:
Mammals: Puma (Mountain Lion), Bobcat, Gray Fox, Raccoons, Striped Skunk, Opossum, California Ground Squirrel, Black-tailed Deer, Feral pig
Birds: Lazuli Bunting, Lark Sparrow
Reptiles: Western Skink, Western Fence Lizard, Southern Alligator Lizard
Amphibians: Pacific Chorus Frog, California Newt
Butterflies: Pipevine Swallowtail, Margined White, California Ringlet, Anise Swallowtail, Mournful Duskywing
Dragonflies/Damselflies: Common green darner, Variegated Meadowhawk, Familiar Bluet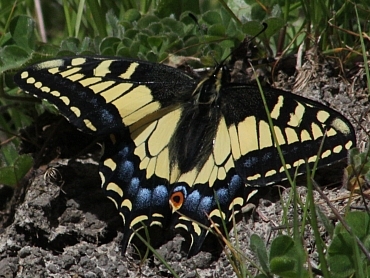 Anise Swallowtail - Papilio zelicaon
Articles and Links
East Bay Parks official page on Las Trampas ...link
Lizards on a Log - blog post dated 18 April 2011
Field Trip to Las Trampas - blog post dated 17 August 2009
Another black panther sighting, by Chris McLaughlin, San Francisco Examiner, 26 March 2009. Anecdotes and analysis regarding sightings of big, black cats in the East Bay hills. ...link