Western Tiger Swallowtail - Papilio rutulus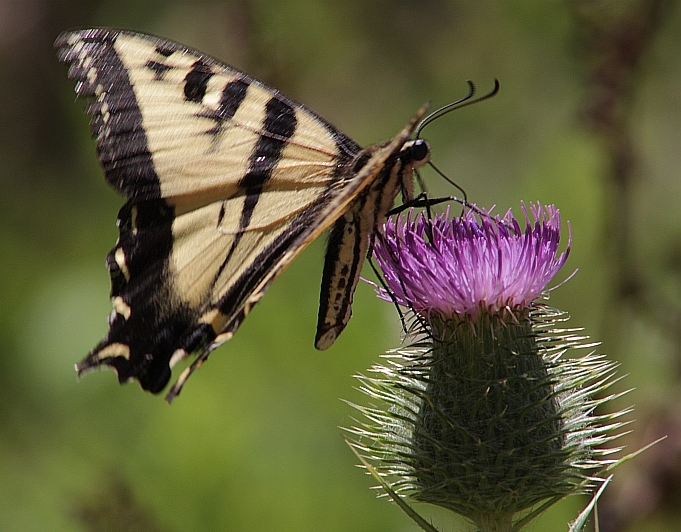 Western Tiger Swallowtail - Papilio rutulus
Overview
It is a large swallowtail butterfly with black stripes on yellow wings giving it the tiger-like pattern. The wingspan is from 2 3/4 to 4 inches. It has blue and orange spots near the tail. Females are larger than males. It is found all across Western North America. It is one of the most common large butterflies you are likely to see in the Bay area, even in urban areas. Like many butterflies, it likes to drink from mud - for minerals as well as water.
Caterpillars (larva) are green, with inflatable orange-yellow and blue eyespots on its head, and sometimes tiny blue spots elsewhere. It takes 10-15 days for the caterpillar to change into a butterfly. Larva are high up in trees and are rarely seen. They have 2-3 broods - late February to November but are seen less after mid-August.
Two other species, the Anise Swallowtail and the Two-tailed Swallowtail look similar but can be distinguished with field marks described in good butterfly field guides.
For more information about butterflies see the Butterflies section and for other insects see the Insects section.
Plants
Nectar Plants
In the wild - California buckeye, yerba santas, brodiaeas, vetches, milkweed, dogbanes, thistles
In the garden - butterfly bush (Buddleia), zinnia
Host Plants for Caterpillars
Sycamore, ash, cottonwood, willow
Articles/Links about Western Tiger Swallowtails