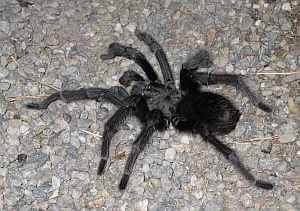 Tarantula - Aphonopelma sp.
Tesla Road, East of Livermore
Tarantula - Aphonopelma sp.
Overview
They live underground most of the year and are nocturnal. In late summer and early fall males go wandering in search of mates. That is when they are easiest to spot, while crossing trails or roads. It is hard to identify them at a species level. The most likely species in the Bay area may be Aphonopelma iodius or Aphonopelma smithi. We could not find good authoritative information about species in our area. We would love to hear from people with further information regarding this.
They have very small venom glands and the bite of our local tarantula is no more painful than a bee sting. They scrape off the hair from their abdomen in the face of a predator. The hair is barbed, and can also be a highly toxic irritant. It is a myth that female tarantulas always kill the males after mating. A female will consume the male only if she is famished and needs a meal to be able to lay eggs. Otherwise, she allows her paramour to retreat in safety. Though free to live another day, the roving male spider never returns to his burrow. Rather, he wanders around searching for other females until he finally dies with the onset of cold weather.
Some details are from Ken Lavin's excellent article - see link below.
Where to View
We have seen Tarantulas in the East Bay in and around Sunol Regional Wilderness, around Livermore on Tesla Road and on Mines Road.
East Bay parks like Mt. Diablo, Morgan Territory, Los Vaqueros Reservoir, Del Valle, Pleasanton Ridge and Sunol Regional Park are good places to look for them.
In the South bay, they are found in Henry Coe State Park, Coyote Reservoir, Joseph D. Grant County Park, and the Mount Hamilton area.
Mount Diablo Interpretive Association (MDIA) organizes Tarantula Treks in September and October.
Fall TarantulaFest at Henry Coe State Park - a day filled with games, contests, entertainment, and enlightenment. ...link
See the Locations page for more details about these places.
Articles and Links
Tarantula Time on Mt. Diablo by Ken Lavin. Great article with a lot of details about its life history. ...link