Stevens Creek County Park
Fast Facts
Location: Cupertino
Habitat: Chaparral, grassland, riparian, aquatic, varied woodland
Key Species: Merriam's Chipmunk, American Dipper, Steelhead Trout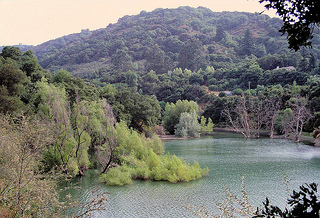 Photo credit
The Pokerbird
via Flickr
View Larger Map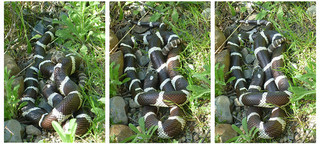 California Kingsnake eating Western Rattlesnake
Photo credit
Steve Wilhelm
via Flickr
Roughly five miles south-west of the city of Cupertino lies a beautiful 92-acre reservoir surrounded by a stunning thousand-acre park. Stevens Creek County Park is a sprawling display of the Bay Area's natural splendor, with many different hiking, biking, and horseback trails winding around Stevens Creek Reservoir and into the hills. It is adjacent to Fremont Older Open Space Preserve to the east, and Picchetti Ranch Open Space Preserve to the west.
The trails of Stevens Creek County Park are surrounded by alder, oak, sycamore, cottonwood, eucalyptus, and big-leaf maple trees, and plants such as cercocarpus, sage, poison oak, toyon, coyote bush, and California poppy. These trails are perfect for the ecotourist who wants a vast portrait of the South Bay's natural landscape; the highest point, Maisie's Peak, offers an astonishing view that can stretch all the way to San Francisco on a clear day.
Stevens Creek Reservoir used to be a great fishing spot, but recently mercury was discovered in the water, so fishing is now prohibited due to health hazards. Stevens Creek County Park also has a nearby sister park, Upper Stevens Creek County Park, which is connected via trails.
Wildlife
Stevens Creek County Park is home to a variety of both aquatic and land-based wildlife. Some species found here include:
Mammals: Coyote, Gray Fox, Raccoon, Brush Rabbit, Merriam's Chipmunk, Fox Squirrel, Opossum, Black-tailed Deer
Birds: This is a wonderful place for birdwatching with over 150 different species. The American Dipper is a specialty of this park, found along streams.
Reptiles: Gopher Snake, California Kingsnake, Aquatic Gartersnake, Ringneck Snake, Western Rattlesnake, Western Fence Lizard, Western Skink, Southern Alligator Lizard
Amphibians: Pacific Chorus Frog, Red-legged Frog, Arboreal Salamander
Fish: Stevens Creek Reservoir and Stevens Creek itself are home to fish such as the Bluegill, Crappie, Catfish, Steelhead Trout, Rainbow Trout, Largemouth Bass, Black Bass.
Butterflies: California Sister, Lorquin's Admiral, Variable Checkerspot, Northern Checkerspot, Mylitta Crescent, Unsilvered Fritillary, Sara Orangetip, Gray-veined White, Painted Lady, Mournful Duskywing, Echo Blue, Spring Azure, Umber Skipper, Tailed Copper
Dragonflies/Damselflies: Flame Skimmer, Red Rock Skimmer, Common Green Darner, Variegated Meadowhawk, Vivid Dancer, Familiar Bluet
A couple of other invertebrates worth mentioning are California Forest Scorpion and Banana Slug.
This is also a good place to see wildflowers in spring and summer.
Photos
Articles and Links